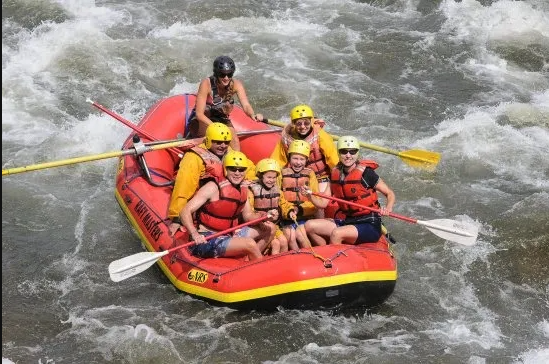 About Raft Masters
---
If you're looking for the top Colorado whitewater rafting outfitter, you've found it. At Raft Masters, Colorado whitewater rafting isn't just a business – it's our passion, and it has been since the company was founded in 1989. No other Colorado river rafting company does it like we do. We stake our reputation on providing professional, high-quality Colorado whitewater rafting adventures dedicated to your comfort and enjoyment.
Offering exclusive rafting trips and packages along both Clear Creek and the Arkansas River, we've got the perfect whitewater excursion for rafters of every skill level. From high-octane thrill rides to leisurely float trips, Raft Masters has something for everyone.
Your Safety & Comfort
Wet-suits, river boots, and splash jackets that are essential for your safety and comfort are provided at no charge. We want your day to be fun, so you can experience the thrill without the chill. 
We're also the only Colorado whitewater rafting outfitter that requires – and provides – safety helmets on all trips.
Half Day River Rafting
---
Bighorn Canyon – Class I-III
Colorado's Bighorn Sheep Canyon, also known as Bighorn Canyon or Parkdale, is home to numerous herds of Rocky Mountain Bighorn Sheep, and is the perfect introduction to Colorado whitewater rafting. This action-packed and scenic section of the Arkansas River is an ideal Colorado whitewater rafting trip for all ages and abilities; Class II and Class III rapids like Five Points, Spike Buck and Shark's Tooth guarantee an exciting whitewater rafting experience as you ride the roller coaster waves of the Arkansas River. We also run multi-day Colorado whitewater rafting trips in Bighorn Sheep Canyon. Minimum age and weight requirements on this exciting Colorado whitewater rafting trip are based on river conditions. 
Royal Gorge – Class III-V
Royal Gorge Rafting is for those who want the most whitewater thrills. As the Arkansas River narrows to only 25-feet wide, this adventure-packed rafting trip winds its way through the 1,100-foot cliffs of the Royal Gorge. 
Famous for its steep drops, huge waves, and continuous Class III to Class V whitewater, the spectacular scenery and Royal Gorge's famous rapids thrill even the most experienced whitewater rafting veterans. Minimum age varies with water levels.
Can't wait for the "big stuff"? Head straight for the action on one of our most popular Royal Gorge rafting trips! Be sure to check out our free wetsuits before you head to the river on this one. Our world-class reputation was built on this world-class whitewater. After a short warm-up you will begin miles of nearly continuous whitewater and rapids like Sunshine Falls, Sledgehammer, Boat Eater and many more. Once you finish your trip through the Royal Gorge you will be only minutes away from our office in Cañon City.