Tips, Ideas & Info
We realize that not everyone has the time or money to take a tour or book a full-day excursion during their visit to the Royal Gorge region, but we still want you to have fun. Here are some of our favorite FREE local attractions.
Traveling with pets? No worries. There are a number of Dog-Friendly attractions, restaurants, and trails in the area you can enjoy together. Prefer Dog Daycare? Check out Furry Paws Pet Sitting.
Looking for things the entire family will enjoy? See our Kid-Friendly ideas. Of course, most of the tours and attractions listed on our site are great for kids, but that will be depend on their ages.
History buff? Check out the FREE local guides you can download!
Free Local Attractions
ARKANSAS RIVERWALK
Enjoy a walk along the beautiful Arkansas River. With 7 miles of trails and many different types of terrain, everyone in the family is sure to have a great time. Much of the trail is a level dirt path (ok for strollers) and leashed dogs are welcome too. Park near the Royal Gorge Railroad and walk over the bridge for the best town access
(Free Any Time)
ROYAL GORGE MUSEUM
The Royal Gorge History Museum contains three gallery areas located on the second floor of the Municipal Building. Each gallery features different selections of artifacts, including rotating exhibits that highlight different aspects of this area's unique history and natural features, dinosaur fossils, Old West history and much more.
(Free Admission)
SKYLINE DRIVE
Drive on a road that follows the top of a high razorback ridge overlooking Cañon City. Enter this one-way, narrow road from Hwy 50 on the west edge of town. Sheer drop-offs on both sides, geocaching sites, and hiking and mountain biking trails. Not for the faint of heart! Don't want to drive? Colorado Jeep Tours can take you on a guided tour.
(Self-Driving – Free)
CENTENNIAL SPLASH PAD
Head over to Centennial Park and cool off at the city's new splash pad. It's FREE. Picnic tables and restrooms are available, visit the ducks at the nearby pond, use the playground equipment, and enjoy the grass and shade trees along the Arkansas River trails and paths. Feeling a bit more adventurous? Take the family rafting!
(Centennial Park – Free)
TUNNEL DRIVE TRAIL
Enjoy a walk down Tunnel Drive on a mostly level dirt trail that goes through three granite tunnels, while looking down on the Arksansas River, rafters and the Royal Gorge Railroad. Perfect for walkers, bikers and joggers. Enjoy the scenery and watch for wildlife! A beautiful south-facing location on a 4-mile out-and-back trail.
(Free Any Time)
GOLDMINE ROCK SHOP
Interested in rocks and gems? Located on Hwy 50 on the way to the Royal Gorge Bridge, the Gold Mine Rock Shop will impress you with their large rock selection, from semi-precious stones and landscaping rock, to minerals and gems, they have it all. A fun browsing experience and souvenir hunting spot for the entire family.
(Browsing – Free)
Dog-Friendly
TAKE A JEEP TOUR
Take your fur children on a jeep tour to Red Canyon, the Royal Gorge or the historic gold mining district of Cripple Creek and Victor with Colorado Jeep Tours. Large dogs pay the child's fare, laps dogs go free. See the company's FAQ's.(Guided Tours – Prices Vary)
WALK THE BRIDGE
Visit the world-famous Royal Gorge Bridge and take Fido with you. All leashed and friendly dogs are welcome on the bridge and in the park, but not permitted in buildings or on rides. Kennels are also available for use at the Park.
(Park Admission – Fee Required)
RIDE A UTV
Play Dirty ATV loves dogs, and they are welcome to ride along on your side-by-side guided UTV tour of Texas Creek. Must be well-behaved, leashed and friendly. Let Play Dirty know in advance if you'd like to bring your dog on a tour.(Guided Tours – Prices Vary)
CHOW DOWN
Canon City Brews & Bikes, located on Main St. in Historic downtown Canon City, has a dog-friendly outdoor patio complete with picnic tables and games in the Beer Garden.
(Free on Dining Patio)
WINE A LITTLE
Winery at Holy Cross Abbey, located in Cañon City, welcomes leashed and well-behaved dogs on the grassy lawn under the trees, where you can enjoy your picnic lunch and a bottle of Abbey wine.(Wine Tasting – Fee Applies)
Need more places to take the dog?
Bring Fido
More places to go with your dog in our area, Colorado, and nationwide.
Furry Paws Pet Sitting
Dog day care, pet sitting, and more. Serving Canon City and Fremont County, CO.
Kid-Friendly
GO BOWLING
Enjoy an afternoon or evening of fun with family and friends in one all-inclusive package that includes your ball, shoes, soft drink and choice of hot grill meals. Two hours of private lane time are reserved just for you.
EAT ICE CREAM
Satisfy your sweet tooth and rev up your day with a java in one stop at the You Scream Treat Emporium. Dedicated to serving up the tastiest ice cream cakes, sodas, shakes, sundaes and a variety of delightful seasonal treats, You Scream is a delight for everyone in the family.
BOARD THE TRAIN
You don't have to be a kid to love this one. The Royal Gorge Route Railroad is one of Cañon City's most popular attractions. Chug along the Arkansas River as you watch for Bighorn Sheep. Walk to the outside car for fresh Colorado air, sunshine, and great photos.
RENT A BIKE
Cañon City Brews & Bikes might not sound like a kid-friendly spot, but it actually is. Located in the historic downtown, this pub/eatery has an inviting covered patio and grassy area with cornhole to keep the kids busy. Ask about bike rentals. Dogs welcome!
RIDE A HELICOPTER
On the 1 to 10 Cool Scale, riding in a million dollar jet helicopter is right up there with trains. Kids of all ages love the helicopter tours of the Royal Gorge and surrounding areas. All ages are welcome – even dad and grandpa. Moms love the views and the noise-blocking headphones.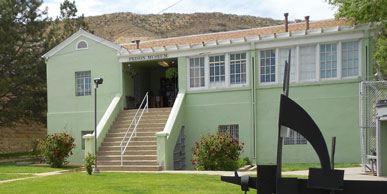 MUSEUM OF COLORADO PRISONS
Located next to the Colorado Territorial Correctional Facility, an operational prison built in 1871, Museum of Colorado Prisons houses no inmates. Instead, facility now contains 30-plus cells, each transformed into exhibits covering more than 150 years of the state's incarceration history. Besides weekend museum guided tours and daily self-guided tours, the museum invites visitors to occasional events every year, such as nighttime ghost-hunting expeditions.
Free Local Guides
Self-guided historical driving and walking tours of Fremont County, Colorado, provided by the Fremont County Heritage Commission. Click the links below to download your FREE guides.