04|2021
The Royal Gorge "Hanging Bridge"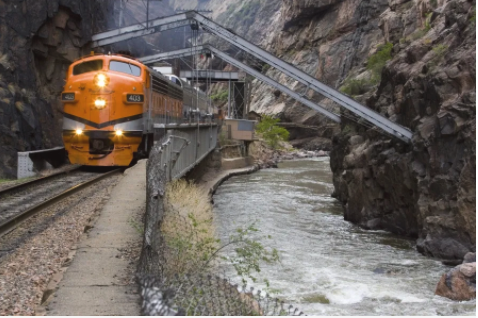 Ever wonder about the unusual bridge that holds up the tracks of the Royal Gorge Route Railroad along the Arkansas River? Read this very informative article by the RGRR.
History All Around Us… THE HANGING BRIDGE
The Royal Gorge at its narrowest point constricts to just 30-40 feet across. It was at this point the two competing railroads (AT&SF and D&RG) found themselves unable to lay tracks as there simply was not enough room for two sets of tracks. A solution was needed to complete the railroad.
In 1879, engineer C. Shallor Smith was employed by the AT&SF to design a bridge capable of supporting passing trains. Smith's design was considered revolutionary. As there was no ground on which to build, Smith designed a steel-plate girder 175 feet long suspended on the outer edge by an A-frame girder anchored to the sheer rock walls on either side- for the then princely sum of $11,759. The inner edge of the plate girder sat precariously on what little ground there was. When constructed, only 10% of the plate girder was on land, while the other 90% of the Hanging Bridge was suspended over the waters of the Arkansas River. The plate girder of the Hanging Bridge was reinforced with piers to support heavier trains on standard gauge track, but even today the ratio of land vs. water under the Hanging Bridge is about 50/50.
In addition to the incredible engineering, the Hanging Bridge has played host to several historical moments and figures, and also served as a stopping point for passenger trains that once ran through the Gorge. On May 8, 1905, President Teddy Roosevelt stopped on the Hanging Bridge and had his photo taken in front of the locomotive. A few months later, on August 10, 1905, Mrs. J.R. Bertnall of Fruita, CO, gave birth on Passenger Train No.3 just as they were crossing the Hanging Bridge. Five years later, on February 27, 1910, the Chicago White Sox stopped their west-bound train headed to San Francisco for Spring Training and posed for a photo in front of the D&RG 752 locomotive. Today, the Royal Gorge train stop on the Hanging Bridge during each of the Canon City to Parkdale trips in order to remember those who traveled before us and share the same views they once enjoyed.